For every case (1000/gloves)
sold of True Comfort® Blu, DASH®
will donate $1 to an organization dedicated to helping protect the world's water.

Funds raised during 2022
will be awarded in the first quarter
of 2023 and DASH® will continue to donate on an annual basis.

The donation will be given
on behalf of our loyal DASH® customers.



BE A KEY PART OF THIS EFFORT
Please tell us about organizations you feel are doing great work to clean and protect our water.
Submit your ideas of worthy organizations to us no later than December 31st, 2022.
Our form makes it a snap! Use the form to submit your nominations.

OK, TIME TO GET STARTED….Who should we donate to?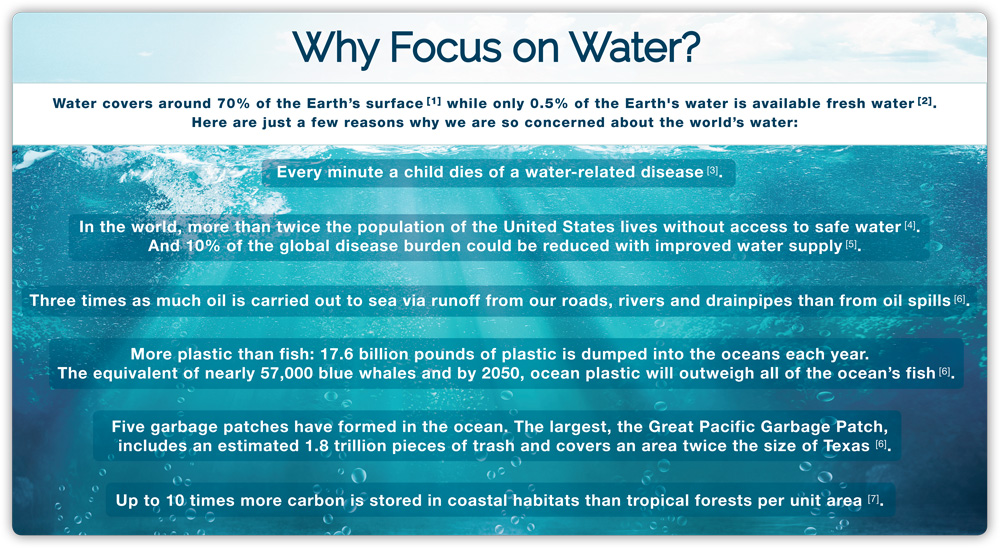 [ 1 ] S. Geological Survey. "How much water is there on, in, and above the Earth?" U.S. Department of the Interior. Web Accessed May 2, 2015.
[ 2 ] Usbrgov Water Facts - Worldwide Water Supply." Web Accessed May 12, 2022.
[ 3 ] Water.org. "MILLIONS LACK SAFE WATER." Web Accessed May 2, 2015. ︎
[ 4 ] Jamison, Dean T. "Water Supply, Sanitation, and Hygiene Promotion." World Bank Group, 1993.
[ 5 ] World Health Organization and UNICEF. "Progress on sanitation and drinking-water - 2014 update." 2014. Web Accessed May 2, 2015.
[ 6 ] Conservations.org " OCEAN POLLUTION: 11 FACTS YOU NEED TO KNOW." Web Accessed May 12, 2022.
[ 7 ] Conservation.org "DOUBLING OCEAN PROTECTION" Web Accessed May 20, 2022.